The Full Back Position In Soccer | A Complete Guide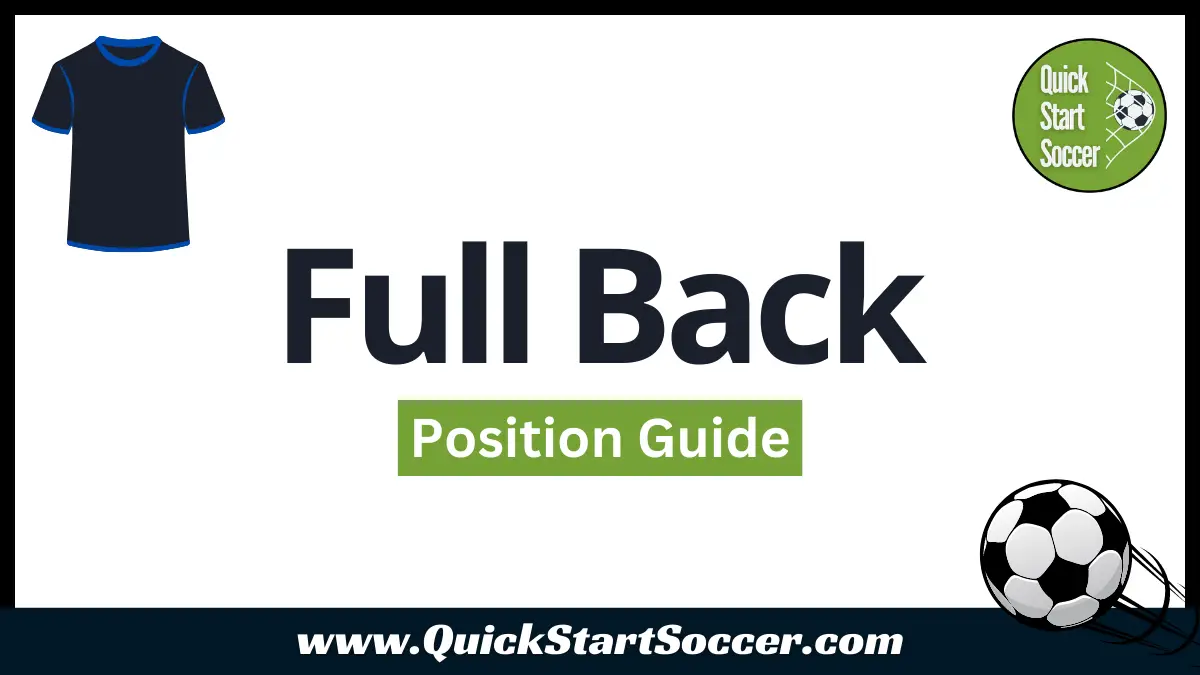 In recent years the full-back position in soccer has undergone somewhat of a revolution. What was once primarily a defensive role, in many teams, the modern-day full-back is now expected to provide width and support in attack, make assists, put crosses in the box, and even score the odd goal! Being a good fullback, therefore, requires many different qualities and skills, as well as a high level of fitness and stamina. 
Below, we will look at the role of the full-back position in soccer and the player qualities needed to play this position successfully. We will discuss how to play as a full-back when your team is attacking and how to play the position when your team is defending. We'll also look at some of the best full-backs of all time and the skills they bring to the role.
What Is The Role Of The Full-back Position In Soccer?
The full-back position in soccer is otherwise known as an outside defender or a left-back/right-back (depending on which side of the defense they are playing). Defensively, the primary role of a full-back is to defend wide areas and keep the ball as far away from the goal as possible. When the ball is on the opposite side of the field, they may also 'tuck in' to be closer to the central defenders and the goal, providing the team with important balance and support. 
Offensively, full-backs have a key role to play in providing width when teams are trying to build out from the back. They also support the attack by making overlapping and underlapping runs, combing with midfielders and forwards, and putting dangerous crosses into their opponent's box. The best full-backs in the world, therefore, have strong technical qualities and contribute heavily to the team both when they are in and out of possession of the ball. 
How Many Full-Backs Does A Soccer Team Have?
Typically, a full 11-player soccer team will play with two full-backs and two center-backs. This is commonly known as 'playing with a back four'. The full-back on the right side is otherwise known as a right-back (or no.2), and the full-back on the left side is otherwise known as a left-back (or no.3).  Formations that have a back four include the 4-3-3, the 4-4-2, and the 4-2-3-1 formations.
What Is The Difference Between A Wing-Back And A Full Back?
Sometimes a team will play with 3 central defenders or 'a back three'. Examples of formations that have 3 central defenders are the 3-5-2 and the 3-4-3. When this happens, the full-backs are usually referred to as the wing-backs. Depending on the style of the team, wing-backs can be slightly more offensive than a traditional full-back but this depends more on the philosophy of the individual team than anything else. As such the terms wing-back and full-back are sometimes interchangeable regardless of the formation being played. 
How To Play As A Full-Back In Soccer 
Qualities Needed To Be A Good Full-Back 
A good full-back is comfortable with the ball at their feet and excels in 1v1 situations in both defense and attack. From a tactical viewpoint, they need to be very strong and understand the defensive concepts of pressure, cover, balance, and support. It's therefore important that a full-back has a wide range of competencies. Here are the most important qualities needed to be a good full-back in soccer:
Strong speed and stamina. A good fullback needs to be able to get up and down the field constantly to help the team in both attack and defense.
Strong defensively in 1v1 situations. Good full-backs are difficult to beat and are able to win the ball off tricky wingers who are trying to beat them on the dribble.
A good understanding of pressure, cover, balance, support, and the role they need to play in helping their team keep good defensive shape.
When not in possession of the ball, full-backs need to be able to adjust their position frequently to help protect the goal and stay connected with the rest of the defense.
Strong offensively in 1v1 situations. Top-class full-backs are comfortable with the ball at their feet and can use effective dribbling techniques and moves to beat their opponents. 
Confident and comfortable receiving the ball under pressure and making passes over short and long distances. 
Able to combine quickly and effectively with their teammates to progress down the field with the ball and get behind the opponent's defense.
Be able to effectively put crosses into the box at high speed and at different heights.
How To Play As A Full Back When Attacking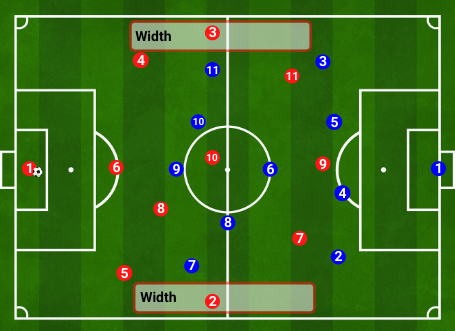 When a team is attacking a good full-back can be one of the most offensive weapons a team has! A significant reason for this is because their direct opponents (usually wingers) are typically not as comfortable and efficient at defending as they are at attacking. To play as a good attacking full-back, a player should do the following:
Give the team width and provide a forward pass option when the central defender or goalkeeper has the ball. The full-back should look to receive 'side on' and with their hips open to the rest of the field so they have the option to continue to move the ball forward and help their team progress.
Recognize that when the number 6 (defensive midfielder) drops deep to receive the ball they can push forward and be more aggressive in their positioning.
Provide a drop option and make themselves available for a pass when their attacking winger in front of them is under pressure.
Look for opportunities to make overlapping and underlapping runs and get beyond the opponent's defense when the attacking winger directly in front of them is in space and has time on the ball.
Upon receiving the ball, look to play forward passes to teammates.
Upon receiving the ball, look for opportunities to play through-balls for their wingers, the striker, or an attacking number 10. 
Upon receiving the ball, given time and space, carry the ball forward into midfield and forward areas.
Put crosses into the box in the final third and create opportunities for the strikers and other attacking players to score.
Combine with the winger and number 10 to create numbers up situations in the attacking half.
How To Play As A Full Back When Defending
Although a full-back is now also expected to contribute in an attacking sense, their primary responsibility is still to defend. The main responsibility of a full-back is to stop the opposing players from getting behind them and putting crosses in. They also need to stop their direct opponents from creating scoring opportunities for others or shooting from distance. To do this they have to be strong 1v1 defenders themselves but also possess an astute understanding of positioning and the tactical side of the game. When defending, a good full-back should do the following:
Understand when they are the '1st defender' and look to put pressure on the ball as quickly as possible.
Make challenges and well-timed tackles, winning the ball whenever an attacker tries to dribble past them.
Be able to block crosses and shots and put high pressure on opponents. 
Have a good understanding of where their teammates are and where to direct and lead the opponents should they not be able to win the ball back themselves.
Provide cover and support for other defenders when they are pressuring the ball.
Provide balance to the team's backline when the ball is on the opposite side of the field.
Hold a strong line with the center back and other defenders and anticipate through-balls from their opponents. 
In anticipation and reaction to through-balls, the full-back should drop deep and get to the ball before the attacking player.
In anticipation and reaction to through-balls, a full-back should look to play opponents and attackers 'off-side' by 'holding the line' & letting the attackers make pre-emptive runs behind them.
Intercept passes behind the defense, particularly those that are played in between the center-back and full-back.
Be comfortable attacking crosses in their own penalty box preventing opponents from making uncontested attempts on goal.
Best Full Backs Of All Time
Roberto Carlos
The original attacking fullback, Brazils Roberto Carlos was part of the famous Real Madrid Galiticio team and often pushed forward with reckless abandonment. Known for his incredible long-distance free kicks and impossible to believe goals, Roberto Carlos will always be remembered as the most exciting and glamorous full-back the world has ever seen.
Trent Alexander Arnold
An indicator of quite how well regarded Trent Alexander Arnold is in the modern game is the fact that he is often been described as Kevin De Bruyne at Right-back! A highly creative attacking full-back, Trent has speed, effective dribbling moves, and an incredible range of passing skills. As a result, he regularly gets more assists in a season than the average attacking midfielder. Part of Liverpool's Champions League and Premier League winning team of the last few years, Trent has even been deployed at times as a central midfielder for club and country due to his incredible ability on the ball.
Ashley Cole
England's Best left-back for over a decade between 2001 and 2014, Ashley Cole showed a level of consistency that was beyond compare during his playing career with both Chelsea and Arsenal. England's most-capped full-back, Cole has also won the most FA Cups of any player in history. Cole had plenty of attacking flair going forward but was also a phenomenal 1v1 defender and is regarded by Christiano Ronaldo as one of the hardest defenders he has ever faced.
More Position Guides
Thanks for reading. I hope you found this guide on the full-back position in soccer useful. Check out these other soccer position guides to learn more about the soccer player roles and positions:

The Number 10 In Soccer
The Number 9 In Soccer
Soccer Player Numbers And Positions Explained
Center Back In Soccer