The Winger Position In Soccer | Everything You Need To Know
The position of the winger in soccer is one of the most exciting on the field. A good winger will have speed, flair, dribbling and crossing ability, and an ability to score goals! In this guide, we will describe in detail the role of the winger position in soccer and the player qualities needed to play this position successfully. We will also look at how to play this position in both attack and defense, as well as what an 'inverted winger' is and how teams utilize this new position to their advantage.
What Is The Winger Position In Soccer?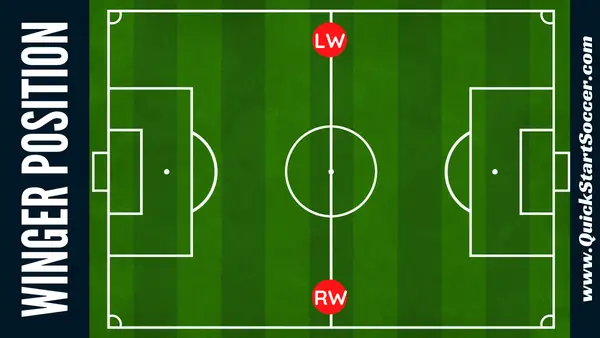 A 'winger' typically spends most of their time on the wings of the soccer field. Wingers are primarily attacking players and are judged on their ability to create and score goals. Together with full-backs, wingers provide width for their team which makes it harder for their opponents to defend as a tight compact unit. Wingers tend to excel in 1v1 situations, which is why they have historically been judged as some of the most exciting players ever played the game.
How Many Wingers Does A Soccer Team Have?
There are almost always two wingers on a 11v11 soccer team. A left-winger (no.11), and a right-winger (no.7). Unsurprisingly, the left-winger plays on the left side of the field, and the right-winger plays on the right. For this reason, a coach will often play a left-footed player at the number 11 position and a right-footed player at the number 7 position. 
Of all the most commonly used formations in 11v11 soccer, the 3-5-2 is the only one that does not have typical wingers. When using this formation, teams instead utilize 'wing-backs', essentially a hybrid between a full-back and a winger.
What Is An Inverted Winger?
An inverted winger is a relatively modern twist on the traditional winger role. It is essentially a term used to describe a player that plays on the opposite side of the field to that of his/her preferred foot (i.e., a right-footed player that plays on the left wing or a left-footed player that plays on the right wing.)
Why Do Teams Play Inverted Wingers?
A team or coach might choose to play inverted wingers as they want their number 7 and number 11 to come inside and combine with their more central players when they are closer to their opponent's goal. If a winger is particularly good at shooting with a certain foot, a coach may choose to line them up on the opposite side of the field so they can cut inside the opposition full-back and get a strong shot on goal. A player who does this particularly well in the modern game is Manchester United's Marcus Rashford.
Another common reason why a team may also choose to play inverted wingers is to give their fullbacks more room on the outside to push up and join their attacks.
What Makes A Good Winger In Soccer?
A good winger is fast and is comfortable moving quickly with the ball at their feet. They enjoy running at their opponents and trying to make things happen. Wingers also have to be able to aggressively press the ball and shoulder defensive responsibilities when their team is not in possession. Therefore, a winger must be a well-rounded soccer player with a wide range of competencies. Below are some of the most important qualities needed to be a good winger in soccer:
Speed
Speed is essential to be a good winger. With speed, a winger can make dynamic off-the-ball runs in behind the defense and dribble with the ball to beat their direct opponents.
Strength
A good winger needs to be strong in 1v1 situations and be able to utilize various tricks and skills to beat and get around defenders. They need strong technical ability, good balance, and plenty of comfortability on the ball.  
Vision
Good wingers know when to dribble and when to pass or cross. For this, they need to be able to play with their head up and read and anticipate the movement of their opponents as well as their teammates.
Aggression
A good winger needs to be strong and aggressive. When not in possession of the ball, they need to help their team press from the front, working with others to create a compact unit and try to win the ball back for their team.
Good First Touch
A winger needs to be confident and comfortable receiving the ball under pressure and combining with others to maintain possession as well as move the ball forward for their team.
Good Passer
A good winger should be a strong ball passer and able to put crosses into the box from various angles effectively, often when under pressure from an opponent.
Good Finisher
A winger should be an accurate and capable finisher who contributes with both goals and assists throughout the season.
Confident
A good winger is not afraid to make mistakes and will risk losing possession in order to try and make something positive happen on the field. When they fail, they don't let it affect their ability and confidence to try again the next time they get the ball.
How To Play As A Winger In Soccer
It's hard to think of anything quite as exciting as a winger in full flow when their team is attacking! But how exactly should a winger play, and what are their unique roles and responsibilities on the field? Below are our top tips on how to play as an effective winger in any soccer game. 
When Attacking
Give the team width and provide a forward pass option when one of the central players or fullbacks has the ball. A winger often looks to find space in the channels, making it harder for opponents to stay compact by holding their position out wide.
Proactively look for opportunities to make runs behind the defense and get on the end of through balls made by other players on the team.
Recognize when defenses are organized and compact and then check towards the ball to receive into their feet.
When receiving out wide and in the final third, look for opportunities to make an early cross into the box to expose and take advantage of an unbalanced defense.
In 1v1 situations, run at the opposing defender and try and use tricks and turns to get into the space behind them.
Get to the opponent's end line and cross the ball whenever possible.
When the opportunity arises, look to cut inside and take a shot on goal themselves (especially when playing as an inverted winger).
Combine with the number 9 and other central players in the final third to create chances and score goals. 
Attack the ball in the penalty area on the weak side when the team's other winger has the ball and is looking to cross it in.
When Defending
Although a winger is primarily and usually one of the most attacking players on the field, like all good team players, they also have to know how to defend when their team does not have the ball. Depending on the coach's tactics, a team may be required to defend in a high, medium, or low block. All of these require some work on behalf of the wingers. When defending, a good winger should do the following:
Look to put pressure on the ball as quickly as possible when they are the 1st defender (i.e. the player closest to the ball).
Try to stop the opposition full-back from playing the ball forward out easily (deny penetration).
Look to help their team get compact and stay compact by staying connected with teammates and getting goal-side of the ball.
Tuck in when the ball is on the weak side, and be aware of players behind them in case of a quick switch.
Trackback and help the team in the defensive third, particularly when playing against a good attacking full-back.
Get back and pick players up on corners if required and asked to by the coach.
Best Wingers Of All Time
George Best
Described by Pele as the best player to have ever lived, George Best was a dazzling winger with sublime skills who could beat any number of players on the dribble. The iconic Manchester United superstar had balance, speed, and flair and is one of a rare few whose name is still sung by the Old Trafford faithful to this day.
Ronaldo
Between 2003 and 2009, Ronaldo was one of the most prolific wingers on the planet, scoring a bucket load of goals whilst helping his Manchester United team to Champions, league, Premier League, FA Cup, and World Club cup trophies. He then moved to Madrid, became a number 9, and promptly became one of the best number 9's on the planet.
Lionel Messi
Inverted winger, false 9, out and out number 11. Messi has done it all and won a record-breaking 7-Ballon dOr's on the way. The Argentinian wizard runs with the ball seemingly stuck to his feet as he bobs and weaves his way through defenders effortlessly at speeds rarely seen on the soccer field. Having done it all at Barcelona, Messi is now dazzling fans, teammates, and opponents alike with Paris St Germain in the French League.
More Position Guides
Thanks for reading. I hope you found this guide to the winger position in soccer useful. Before you go, be sure to check out these related guides:

Soccer Player Numbers And Positions Explained
The Center Back In Soccer
The Full Back In Soccer
The Number 6 In Soccer
The Number 8 In Soccer
The Number 9 In Soccer
The Number 10 In Soccer