The Number 8 Position In Soccer | A Complete Guide
The number 8 position in soccer is not the flashiest position, but it is often occupied by the most well-rounded and accomplished players on the field. Having a good and capable number 8 is an essential component for teams at any level of the game. 
In this post, we will look at what position the number 8 in soccer plays, the role of number 8 players, and the qualities needed to play this position successfully. We'll also give some tips on how to play as a number 8 when both in and out of possession. We'll also take a look at some of the best number 8 players in the professional game which can be a great example to young aspiring athletes.
What Position Is The Number 8 In Soccer?
The Number 8 position in Soccer is a central midfielder. Number 8 players are also referred to as 'box-to-box midfielders' because a good number 8 covers all areas of the field, including both penalty boxes. 
Unlike the number 6 (primarily a defensive role) and the number 10 (primarily an attacking role), the role of a number 8 player is to be equally effective in both defense and attack. Due to the many responsibilities number 8 players have, this position requires a high amount of energy and stamina. For this reason, people often refer to the number 8 position as the most physically demanding on the field.
Typically, a soccer team will play with either two or three players in the central midfield. In both of these cases, the number 8 plays a very similar role. In a two-person midfield, they will play alongside a number 6, and in a three-person midfield, they will play just in front of the 6 and behind the number 10. 
Occasionally some teams forgo having a number 8 in favor of having 2 central defensive midfielders. This can most often be seen when teams play a 4-2-3-1 formation. 
How To Play As A Number 8 In Soccer 
Qualities Needed To Be A Good Number 8
An all-encompassing central midfielder, the number 8 in soccer has to have a wide range of qualities to perform the position successfully. Below are some of the most important. A good number 8 will;
Be physically fit, with a high amount of energy, stamina, and enthusiasm.
Have a competitive personality, a desire to win, and eagerness to be involved in play at all times.
Be able to read the game and understand when to speed things up for their team or slow things down.
Have a good first touch & be comfortable receiving the ball in tight spaces under pressure from opponents.
Be able to make tackles and interceptions and thrive in physical battles.
Have the ability to shoot effectively from a distance with a strong desire to score.
Be a good passer of the ball over both short and long distances.
Be strong in the air and able to win aerial challenges against opponents.
How To Play As A Number 8 When Attacking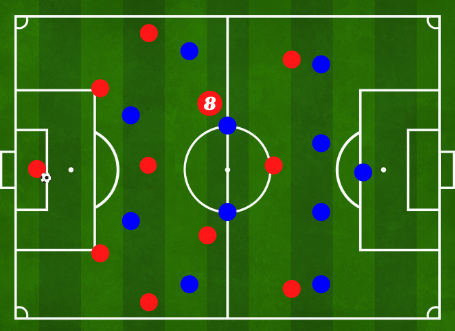 When a team is attacking, a good number 8 is eager and enthusiastic to be involved in play at all times. This is true whether the ball is in the defensive third, the middle third, or the attacking third. Simply put, wherever the ball is in play, a good number 8 wants to get on the ball and make things happen! To play as a good number 8 when in possession, a player should;
Help connect play and make passes with all players on the team.
Provid a forward passing option for the goalkeeper, each of the defenders and the number 6 whenever those players receive the ball.
Look to support and provide passing options for all other midfield and forward players whenever they receive the ball.
Look for opportunities to pass the ball forward and help their team advance.
Carry the ball forward themselves, with the ball at their feet, when there is space to do so.
Look for opportunities to make forward runs and support the attack.
Look for opportunities to run beyond the forward line and get behind the opponents defense. 
Play through balls behind the opponents defence to create chances for other players.
Be prepared and able to shoot from distance when chances arrive.
Try to arrive late in the penalty box to get on the end of crosses & provide an additional attacking threat.
How To Play As A Number 8 When Defending
Unlike other roles that are primarily offensive or defensive, the number 8 is expected to contribute equally whether their team is on the ball or not. As such, the number 8 has a lot of responsibilities when it comes to defending! When their team is not in possession of the ball a good number 8 should;
Work hard to protect the backline by covering all areas of the field in front of the defense.
Try to be goal-side of the ball whenever their team is not in possession. 
Make challenges and tackles and excel defensively in 1v1 situations.
Put pressure on the opponent's midfielders whenever they have the ball.
Read the game and be able to intercept forward passes from their opponents.
Block shots on the edge of the box and ensure opponents cannot shoot from a distance.
Provide defensive cover for any players who find themselves out of position immediately after losing possession.
In addition, if requested by the coach, the number 8 is usually the player tasked with man-marking an especially creative or gifted opponent.
Best Number 8 Soccer Players
Steven Gerrard
During a trophy-laden career at Liverpool, Steven Gerrard was a true captain and leader who could do everything. A powerhouse midfield player with incredible stamina, he was also known for his wide range of passing and his ability to run with the ball. A big-game player, Gerrard was often the man of the match in some of Liverpool's biggest games during his 17 years with the club.
Jude Bellingham
One of the most talked-about young players in the game, Jude Bellingham, is an 18-year-old English midfielder currently starring for Borussia Dortmund in the Bundesliga. With incredibly high stamina and athleticism, Bellingham is a true box-to-box midfielder that covers every inch of grass, whether in defense or in attack.
Andres Iniesta
Unlike many number 8's, Iniesta's physical attributes are somewhat unremarkable, but he more than makes up for it with his high soccer i.q, impeccable vision, and range of passing. Iniesta won every trophy imaginable with Barcelona and Spain over a 20-year career and even scored the winning goal in the 2010 World Cup final.
Roy Keane
Regarded by many professionals as the most inspirational and competitive player they had ever played with, Roy Keane was known for his fiery temperament, aggressive attitude, and relentless desire to win. A true 'all rounder' who was equally good in and out of possession, Roy Keane would do whatever it took to get his team over the line and secure victory.
More Position Guides
Thanks for reading. Before you go, check out these related position guides to learn more about numbers and positions in soccer:
Soccer Player Numbers And Positions
The Number 6 In Soccer
The Number 9 In Soccer
The Number 10 In Soccer
Center Back In Soccer