The False 9 Position In Soccer | A Complete Guide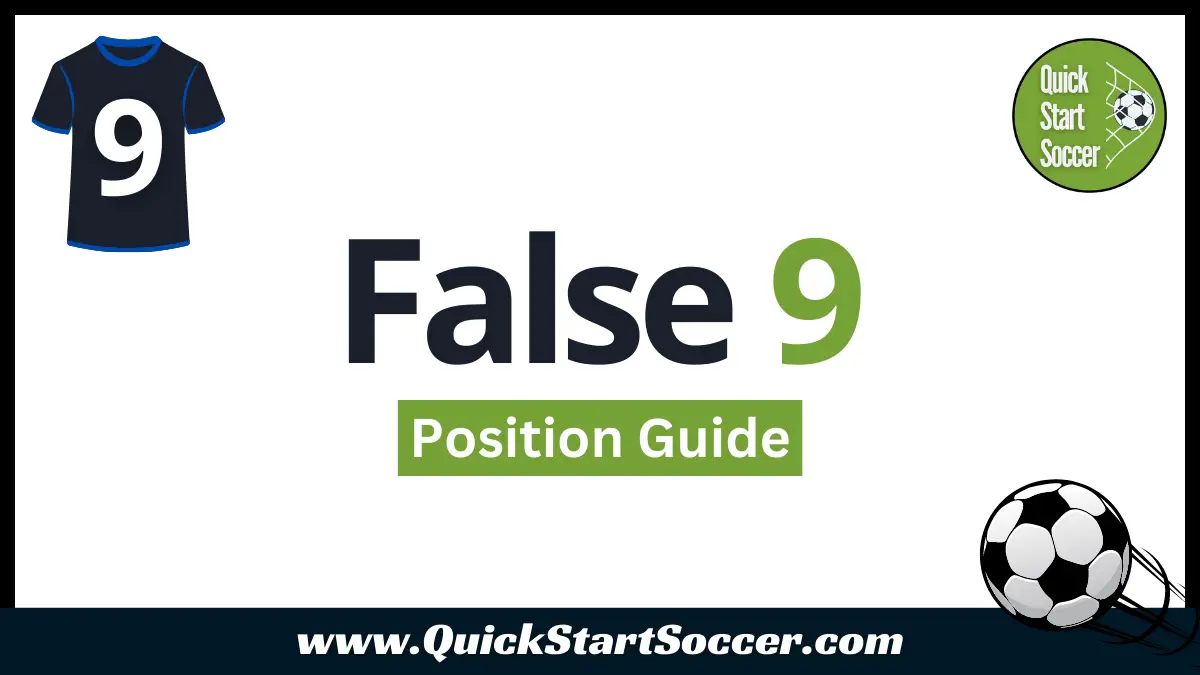 The quality of top-level professional soccer is as high as it's ever been. Along with faster, smarter, and more technically adept players, we're also seeing the emergence of new formations and positions. One such position is the 'false 9'. In this guide, we will explain what the false 9 position is and how to play as a false 9 in soccer. We'll also look at some of the best false 9 players of all time.
What Is The False 9 Position In Soccer?
In soccer, the false 9 position is a hybrid position that fuses the responsibilities of an attacking midfielder and an out-and-out striker (known as a number 9). Unlike a traditional center forward, a false 9 drops deeper into midfield to try and receive balls, vacating the space higher up the field. Once on the ball, they look to create chances for other attacking players who move into the vacated space or have made their own penetrating runs behind the defense. A false 9 is a creative or playmaking role rather than a simple goalscoring one.
While it's not uncommon for traditional number 9's to check toward the ball in an effort to find space, a false 9 will consistently play in pockets of space in between an opponent's defensive and midfield lines. 
By utilizing a false 9, a team forces their opponent into making a tough tactical decision. Either one of the center backs pushes on to pick up (guard) the deep-lying playmaker or they let them go unchallenged and hold their usual position. 
If they choose the former option, they risk unbalancing their own defense and leaving space for other attackers to exploit. If they choose the latter, it can lead to a numerical overload in midfield which in turn will result in a higher level of possession for the attacking team and more opportunities to create chances in and around the penalty box. When used correctly, playing with a false 9 can be a highly effective tactic for coaches and teams at any level.
How To Play As A False 9 In Soccer
Qualities Needed
The false 9 position in soccer is a playmaking role that demands flair and creativity. When coaches utilize a false 9, the player occupying the position is responsible for creating chances against stubborn and compact defensive lines. And so, to play well in the number 9 position, a player must have the following qualities:
Be imaginative with exceptional vision and awareness.
Be confident and comfortable with the ball at their feet while fending off tackles and pressure from their opponents.
Be able to create space for themselves by constantly looking and moving into space to receive the ball and make things happen.
Be able to receive the ball on the 'half turn' so there is always an option to play forward quickly.
Be able to use both feet. Players must be able to receive and pass with either foot to quickly process the movement of the opponent's defense and the attacking runs of their teammates.
Be confident enough to make high-risk passes without being afraid of failure.
Be a calm and competent finisher who can score goals and create chances for others.
How To Play As A False 9 When Attacking
When attacking, a false 9 player's main responsibilities are to create chances for their teammates and dictate the rhythm of play. In order to do this, a good false 9 player should:
Scan constantly to ensure they have a full understanding of the positioning and movement of their teammates and the opposing players. This will enable a false 9 to make quick decisions on the ball and make defense-splitting passes or to dribble forward when appropriate.
Try to find pockets of space and receive the ball 'in between the lines' (i.e. in between the opponent's defensive and midfield lines).
Utilize one-touch and two-touch play to unbalance the opponent's defense and create a good rhythm in attack.
Be able to utilize dribbling moves in 1v1 situations, particularly if it leads to a shooting opportunity or an opportunity to make a defensive splitting pass.
Look to take on shots from a distance against a deep-lying defense, particularly if the team is struggling to get in behind.
Look to support the wide players quickly if they are under pressure or in a 'numbers-down' situation.
Drop deep into midfield to get on the ball and create a numerical overload with the other midfielders on the team.
How To Play As A False 9 When Defending
The false 9 is the most attacking player on the field with the most creative responsibility, and yet they still have a  significant and important defensive role to play when their team is out of possession. A false 9 is the first line of defense in stopping their opponents from playing out of the back and helping their team win the ball high up the field. To successfully defend as a false 9 a player should:
Put pressure on the central defenders and even the goalkeeper when they are trying to play the ball out of the back, and initiate a high press if the coach requires it. 
Understand when a high press will not be successful and look to cut off passing lanes to prevent a forward pass. 
Pressure the opponent's number 6 from behind to either win the ball or force them into making an inaccurate pass.
Best False 9 Players
Lionel Messi
Undoubtedly the most famous and successful player to have occupied the false 9 position, Lionel Messi often played there during Pep Guardiola's trophy-laden period in charge of Barcelona from 2008-2012. His unparalleled appreciation of space, incredible speed of play, and natural ability with the ball made him the perfect player for this nuanced position!
Francesco Totti
Francesco Totti Was named by Maradona as one of the greatest players he had ever seen. The Italian footballer and FC Roma Icon was a true one-club man, playing for over 25 years for the famous 'Giallorossi'. While most of his career was spent playing as a number 10, Roma manager Lucas Spoletti utilized Totti in the false 9 position increasingly between 2006 and 2008. His natural creativity on the ball, sublime touch, and eye for goal helped the team win two Coppa Italia's and an army of fans in Italy and beyond!
Cesc Fabregas
Cesc Fabregas was used once and once only in the false 9 role, but boy, was it successful! Spain entered the 2012 European Championships with no recognized striker and were tipped by many to drop out of the tournament early. However, manager Vincent Del Bosque had other ideas and pushed one of his strongest central midfielders 'up top' to play the false 9 position. It worked incredibly well with Fabregas's ability to retain the ball and connect play with teammates helping the team dominate possession in each game and ultimately win the championship with a resounding 4-0 victory over Italy.
More Soccer Position Guides
Thanks for reading. I hope you have a better understanding of the false 9 position in soccer. Before you go, here are some more position guides you might find interesting:

Number 6 Soccer Position
Number 8 Soccer Position
Number 9 Soccer Position
Number 10 Soccer Position